We do in town, out of town and even out of state transfers. Balentine Ambulance Service is an approved Medicare/Medicaid provider for ambulance transportation. We also accept private insurance, workman's compensation and private pay clients. Our seventeen ambulances are equipped with the latest medical equipment and advanced supplies such as 12-lead diagnostic ECG's and pulse oximeters (the first private in Northwest Louisiana to have such equipment). We are one of the first private service to carry portable respiratory ventilators for our patients as well as CPAP and BI-PAP. All of our ambulances have installed communication equipment in order to provide direct contact with every medical facility in the region and are interoprable with public safety agencies throughout the state of Louisiana.
Balentine Ambulance Service is the oldest Ambulance service in Northwest Louisiana and is licensed by the Caddo Parish Commission to provide Ambulance Service in Caddo Parish including Non-emergency transports as well as Critical Care Transports. Additionally, we have units that are on constant standby to provide backup EMS services for both the Shreveport and Bossier City Fire Departments. As well as Bossier Parish EMS and the Rural areas of Caddo Parish.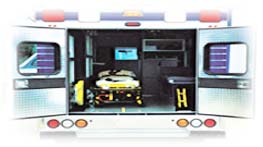 Our select team of medical technicians are all certified
by the National Registry of Emergency Medical Technicians and the Louisiana Bureau of EMS. Each team member has undergone CPR training and has well as Defensive Driving approved by the Department of Transportation (DOT). They specialize in the care and transportation of geriatric patients, dialysis patients, Alzheimer patients, and the terminally ill. Our Paramedics are certified in ACLS, PALS, PHTLS and NALS. Our staff is highly trained, very professional, and caring.